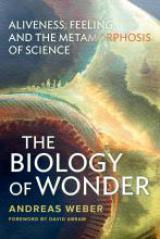 "
Grounded in science, yet eloquently narrated, this is a groundbreaking book. Weber's visionary work provides new insight into human/nature interconnectedness."
--- Richard Louv, author, The Nature Principle and Last Child in the Woods
"Written with poetic elegance and interwoven with a rich vein of personal narrative, this extraordinary book takes the central idea of the subjectivity and interior life of all living beings and gives it concreteness…"
---Shierry Weber Nicholsen, author of The Love of Nature and the End of the World
"Weber reorients us scientifically, poetically and morally, from insufficent reductionism."
---Stuart Kauffman FRSC, Emeritus Professor The University of Pennsylvania, author of At Home in the Universe, The Origins of Order, Reinventing the Sacred, and Humanity in a Creative Universe
The disconnection between humans and nature is perhaps the most fundamental problem faced by our species today. The schism between us and the natural world is arguably the root cause of most of the environmental catastrophes unravelling around us. Until we come to terms with the depths of our alienation, we will continue to fail to understand that what happens to nature also happens to us.
In The Biology of Wonder author Andreas Weber proposes a new approach to the biological sciences that puts the human back in nature. He argues that feelings and emotions, far from being superfluous to the study of organisms, are the very foundation of life. From this basic premise flows the development of a "poetic ecology" which intimately connects our species to everything that surrounds us, showing that subjectivity and imagination are the prerequisites of biological existence.
The Biology of Wonder demonstrates that there is no separation between us and the world we inhabit, and in so doing it validates the essence of our deep experience. By reconciling science with meaning, expression and emotion, this landmark work brings us to a crucial understanding of our place in the framework of life — a revolution for biology as groundbreaking as the theory of relativity was for physics.
"In Andreas Weber's vision, nature is beautiful, and ecology is poetry. Follow his beautiful words into a science that investigates the Earth as a breathing, sensitive planet…"
---David Rothenberg, author of Survival of the Beautiful and Bug Music